When people who came of age in the 1990s think of movies that defined their adolescence,
there's a canon list that no one would argue the validity of. She's All That, 10 Things I Hate About You, Empire Records, Cruel Intentions — and of course, Clueless — are all well-loved because they each had something unique going for them that '90s teens and tweens could easily draw parallels to their own lives from.
But one film that also fits the bill yet tends to get pushed to the wayside is Can't Hardly Wait, a story about recent high-school graduate Preston Meyers (played by the never-not-likable Ethan Embry) who attends one last blowout bash with the class of 1998 in the hopes of finally winning over the girl of his dreams: Jennifer Love Hewitt's homecoming/prom/everything queen, Amanda Beckett.
Spoiler alert: He does.
It's worth noting that Kurt Vonnegut/Barry Manilow fanboy Preston pseudo-stalked this girl from afar for years after Pop Tart-ignited sparks flew (for him), but rest assured he and the writers somehow found a way to make it not creepy at the end when they have their first-ever real conversation in a train station and, approximately 1 minute later, share their first kiss.
Embry himself joked to PEOPLE in 2014 of his starry-eyed protagonist: "I think that he probably would've taken the route of becoming a reclusive alcoholic in the hills of Connecticut, chasing his Django Reinhardt/Kurt Vonnegut to the bottom of a barrel, wondering why things never worked with Amanda."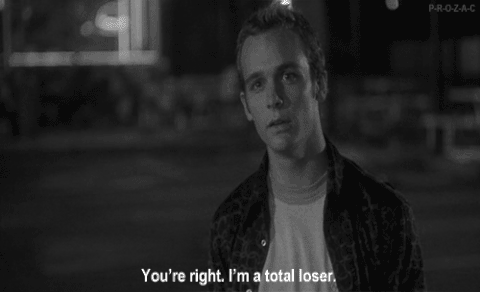 Jokes aside, it's hard to nail down exactly why this movie gets overlooked or ranked toward the bottom of "best of" lists (and it's understandable in a way, considering its peers), as there are so many reasons why it deserves more recognition. Heck, even the film's writer/directors Harry Elfont and Deborah Kaplan stuck a Can't Hardly Wait Easter egg in the only other film they directed together: 2001's Josie and the Pussycats, in which if you look closely you'll see "'Can't Hardly Wait' was underrated … " scroll across a marquee.
On its 20th anniversary, here are 10 reasons why Can't Hardly Wait holds its own among other '90s teen classics.
1. It featured an absolutely stellar ensemble cast.
Like Clueless before it, Can't Hardly Wait included many different characters with ample screen time who each had their own stories going for them that just happened to intertwine in a kooky way — with a high-school party coolness level that no real-life party has ever been able to obtain.
What's more? Preston, Amanda, Denise (Lauren Ambrose), Kenny (Seth Green), William (Charlie Korsmo), and Mike (Peter Facinelli) all kind of make up a Breakfast Club of the '90s. You've got the princess (Amanda), the basket case (Denise), the athlete (Mike), the brain (William), the criminal (Kenny, I guess?), and then…Preston. Maybe he's the principal? He is rather principal-esque.
2. It didn't screw around with giving you the 411 on everyone right from the get-go.
Who has the time in an hour-and-a-half-long movie to learn the basics of six main characters? All of them get a yearbook-style freeze frame right when we meet them, listing off their school-related accomplishments.
We learn all the important stuff, like how Amanda is an extremely popular student who was a cheerleader and held the title of queen at basically all of Huntington Hill High's school dances. Denise is a reclusive Oscar Wilde fan, William's academic prowess is more than can be shown on screen and Kenny "Yo, I Gotta Have Sex Tonight" Fisher played one game of junior varsity basketball.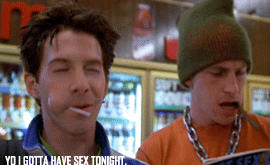 RELATED: Back to the Party: 15 Things You Didn't Know About Can't Hardly Wait
3. It hit the serious depths of these six characters (and their relationships/history) in a single night, without it feeling forced.
In its mere 1 hour and 41 minutes, Can't Hardly Wait dives deep into these six individuals' past, present and even future — both individually and in terms of their relationships with each other — adequately and hilariously without the story feeling rushed, also making it crystal clear that their fates have been sealed and no room for a sub-par sequel really exists.
By the end of the movie, you leave feeling not only like you've attended the fictional Huntington Hills High yourself, but that you 1.) Found a new best friend to relate to based on how you fit in (or didn't) at your own school, 2.) Learned not everyone can be put into a single stereotype box, and 3.) Can't wait to get the hell out of school, if you're still in it.
4. It was our first real introduction to so many amazing actors we know and love today.
Ambrose, Facinelli, Melissa Joan Hart, Jaime Pressly, Clea Duvall, Eric Balfour, Selma Blair: so many stars who went on to have flourishing careers had their first (or at least a very early) movie role in Can't Hardly Wait. Who could forget Sara Rue as "Earth Girl," the scissors-wielding youth whom we're not sure why she even came to the party? Pretty sure she was the one responsible for the pot brownies, though.
Can't Hardly Wait was also Jason Segel's first movie role! He's the less chatty "Watermelon Guy" sidekick to this other guy's super-high and very non-helpful character.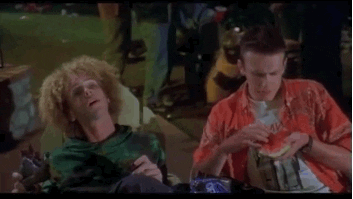 Bonus: There's an appearance from Marisol Nichols, a.k.a. Hermione Lodge from Riverdale, which this writer didn't realize until researching for this piece, proving this movie is still surprising fans to this day. You can see Nichols up close at 1:08 in the following clip, showing off her…estimation skills.
The film was also Korsmo's last role (although he is signed on for a project called Chained for Life, slated for release this year). The kid we all remember as little Jack Banning from Hook went on to become a super important lawyer after attending MIT and Yale — so basically, he's the real-life William Lichter.
5. THE SOUNDTRACK.
From the first notes of Eve 6's summer-anthem-esque "Open Road Song" to appearances by Smash Mouth, Third Eye Blind, Tone Loc, Dire Straits, Run-DMC and Dog's Eye View (and of course, "Mandy" by Barry Manilow), Can't Hardly Wait's music focused on telling a story in its entirety as opposed to having one song that defined it.
The soundtrack spans decades and genres but still remains decidedly '90s — further playing into the filmmakers' dedication to representing as many different levels of the high-school caste system as possible.
RELATED GALLERY: 15 Timeless Coming-of-Age Movie Soundtracks
6. It's extremely quotable in everyday life.
Like for those times when you drink a little too much but can't be bothered to think about which limbs are intact.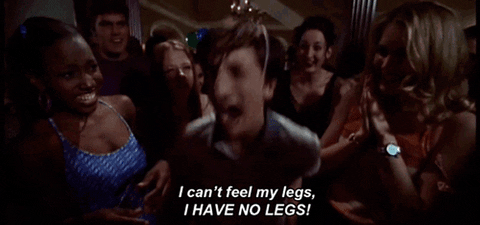 Or when your friends aren't sticking to the agreed-upon game plan. (For parents: When you put together an adorable Pinterest-worthy surprise for your kids and they're like, "Cool, can I go back to the iPad now?")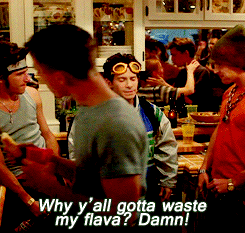 What every girl named Amanda has heard more times than she'd like to admit.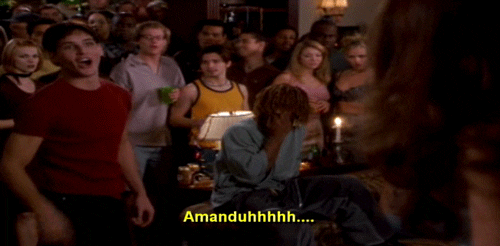 And something a lot of people need to hear, probably.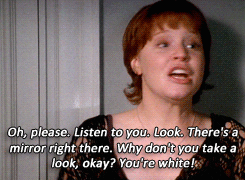 7. It taught us how to look beyond ourselves and ponder the existential.
A certain Cher Horowitz may have laid out the concept of existentialism in teenage-hood when she pointed out Ren & Stimpy's role in it, but William Lichter really drove home the point. I mean, who can argue with this?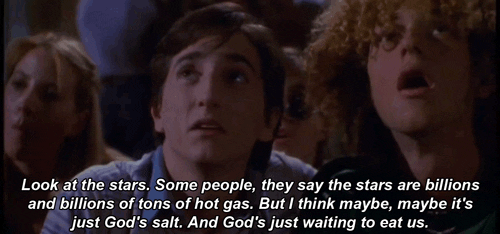 8. We also learned what dendrophilia is.
The more you know.
9. It taught us that being ourselves is the only path to true coolness (and happiness).
Whether it means wearing the shirt of the band you're in while performing with said band or learning about your mistakes the hard way from a certain washed-up former football star played by Jerry O'Connell, Can't Hardly Wait's biggest lesson is that being true to yourself and seizing the day is the key to living a truly full life.
RELATED: Jennifer Love Hewitt Really Wants a Can't Hardly Wait Reunion Movie
10. It proved that regardless of whether fate is real, at the end of the day, choice is what matters.
If there's one thing to be learned from Jenna Elfman's cameo as the angel stripper/dancer, it's this: "There is fate, but it only takes us so far, because once you're there, it's up to you to make it happen."
Also, people change. See: Scott Baio. We can't help but wonder what the flawless-advice-giving angel would think of her No.1 celebrity crush today.
Happy 20th birthday, Can't Hardly Wait!