This week we're talking about sex, in that, the women on SNL are set to make the White House roof (and hopefully not the world) explode.
Every week I'll be here to reveal and review some of my favorite moments from the internet. Whether it be binge-ing television shows, streaming sports or simply getting lost in a YouTube rabbit hole, I'm here to give you my top picks every Friday, as well as the perfect pairing to get into an optimal headspace for them.
This week, we're talking a tiny bit of politics because we're amped up to watch the next Saturday Night Live like it were the '90s, and equally amped to spend Sunday night not watching the Grammys.


The Women of Trump's Cabinet

Recommended Pairing: Almond milk and cocaine.

Melissa McCarthy ruined Sean Spicer. He's done. Not only will he always be looked at through the lens of her portrayal of him (chaotically tossing around accusations and limp-dick defenses, using dog turds for a visual aid, and attacking a reporter with a foam lined podium), but apparently his boss, the gold-plated demagogue, was furious that the press secretary was so spectacularly skewered by the satire of... a woman.
The show I aspired to be a part of as a teenager always hits its stride in election years. Saturday Night Live has been the political satire show for multiple generations and gladly teaches the citizenry the best way to mock our leaders. When you hear someone doing an impression of one of our nation's leaders, they're not doing an impression of them as much as they're doing an impression of the Saturday Night Live player's impression.

Their portrayals are iconic — Chevy Chase doing Chevy Chase as Gerald Ford, Phil Hartman doing Bill Clinton as a cheeseburger loving man of the people, and Will Ferrel doing W. as a strategery loving summabitch. We also had Tina Fey eviscerating Sarah Palin as a dim-witted champion of hockey moms, and most recently — Alec Baldwin's take on The Donald as a blathering giant baby.


This week, Alec Baldwin returns to host the show for his seventeenth time, and although we're all on the edge of our seats waiting to see if he does the whole show in character, and more importantly how Donald Trump reacts.
With the news that the president was so upset about McCarthy's portrayal of Spicer, the internet has been clamoring for an all female depiction of his cabinet and closest advisors. A trending post from the Huffington Post made a great case for some spot-on casting choices: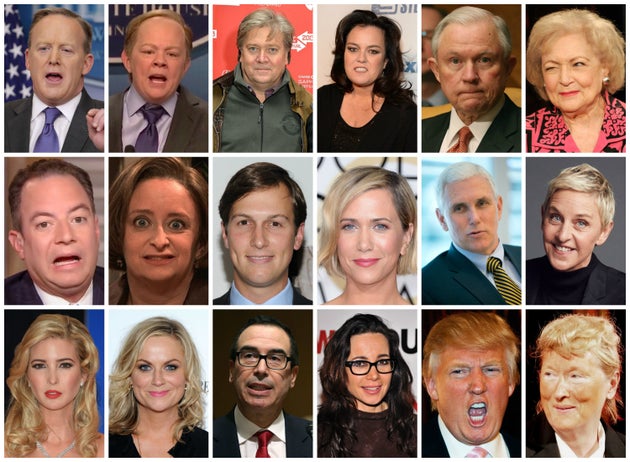 I love the idea of Ellen DeGeneres playing Mike Pence and Betty White playing Jeff Sessions, but having Rosie O'Donnell play Steve Bannon is almost too good for words. The idea got so popular that Rosie even changed her Twitter Avatar to this:
Good lord! That might be even more terrifying than his current depiction as an angel of death.
And with all that being said, I hope this Saturday's episode opens with Alec Baldwin as Trump sitting in the dark on a couch in the White House wearing his customary white robe, watching as the cold open for the show starts to illuminate the room.
We zoom in and see Rosie O'Donnell, a "fat" "slob" with a "fat, ugly face" portraying the President sitting around a dark Oval Office lit only by candlelight. Gathered around the President are all of the familiar faces from the aforementioned HuffPost casting article as they take turns announcing themselves, their highlights of the week, and a compliment for the Commander in Chief. When all of a sudden the lights come on. Bannon, who had been hiding in the shadows up until then, shrieks then vanishes in a puff of smoke.
We see Senator Elizabeth Warren staring angrily at the President.
Mitch McConell (Kate McKinnon dressed as a turtle) tells her, "I've warned you. I've explained we don't want to be illuminated, yet nevertheless, you persist!" Senator Warren gets a second to begin a speech about what it means to be American when —
Zap. The feed cuts out.
We're back in the White House with Alec as Trump as he frantically searches for his phone. We see he is in a very low-cut robe and as he's about to bend over to search in the cushions, Bannon floats in with it and flips the light switch. Donald jumps, expecting the light to kill him, to which Bannon replies, "NOTHING CAN STOP ME NOW!!!"
Smash cut to opening title.